A crafting mat is a must-have for any serious crafter. These mats protect your work surface and keep your materials organized. They typically have a variety of grids and lines to help you measure and cut materials, and some even have designated areas for specific materials.
When choosing the best craft mat, it's important to consider the type of crafts you do.
If you quilt, you'll want a craft mat with measurements. If you scrapbook, you might want a mat with a few designated areas for photos, paper, and stickers. Or, if you're crafting with epoxy resin, you'll want silicone mats to be in the first place.
All things considered, we've reviewed some of the best crafting mats available on the market. However, as a busy surfer, you may want to make a quick purchasing decision from our top 3 round-ups from here –
Image
Name
Our Rating
Price
Anezus Self Healing Double Sided Rotary Craft Mat


5 out of 5

Check On Amazon

Nonstick Heat-Resistant Silicone Sheet for Crafts

5 out of 5

Check On Amazon

Fiskars 24×36" Self Healing Crafting & Cutting Mat

5 out of 5

Check On Amazon
5 Best Crafting Mat Sheets Review
A crafting mat can make things easier and more enjoyable. But with so many different options on the market, it can be hard to know which one is the best for you. That's why we've laid it review article. We'll walk you through 5 different products about their good side and bad side.
I believe this will eventually help you decide which craft mat is the best for you, based on your specific needs. With that in mind, let's get to the reviews starting from the top pick –
---
1. Anezus Self Healing Double Sided Rotary Cutting Board for Sewing Craft and Hobby Projects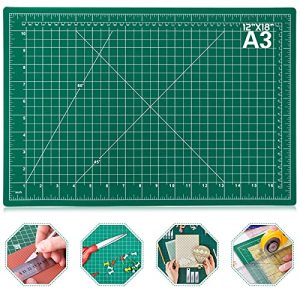 The Anezus Self-Healing sewing mat is our favorite choice today! It measures 12×18 inches and has a rotary cutting mat on one side and a craft cutting board on the other. This double-sided design gives you more space for working by changing the sides.
With the cutting board side, you're able to accomplish a handful of craft projects including sewing or any other hobby of precision scrapbooking arts. Be sure that it'll be a great addition to any sewer or crafter's toolbox.
The rotary cutting mat is five-ply and is self-healing, meaning that it will heal small nicks and cuts over time. This is a great feature, as it allows you to use the rotary cutter with precision and without fear of damaging the mat.
The craft cutting board side is also perfect for precision cutting, as it is thick and sturdy. This side can also be used to protect your work surface when you are cutting fabric. Consequently, being a large size mat, you can do most projects on it.
Not to forget that it's very durable. I am really surprised to hear about the self-healing aspect. And I would definitely recommend this to anyone looking for a good cutting mat.
Highlighted Features:
Large size: 12 x 18 inches
This mat is double-sided
Five layers of protection
Ensures clean and precise cut every time
Snappy performance at an affordable price
Designed for various crafts projects
perfect for small to medium-sized projects
Accidental cuts will automatically close up
Quality construction for a great value
This silicone sheet can protect your crafting table from stray glue, epoxy resin, paint, and other messy crafts. Also, the mats are heat-resistant so you can safely set down hot dishes or pans. Their nonstick surface prevents your projects from sticking to the silicone sheet and makes cleanup a breeze. Besides having a nonskid surface can keep it in place on your crafting table.
You're able to use it as a mold or a placemat. It's made of food-grade silicone material, making it a great option for use with all sorts of crafts and foods.
The nonstick and nonskid nature truly makes it easy to use and prevents them from slipping around on the surface on which they are placed. With 3 available colors (black, gray, and beige), this thing is an amazing addition to any crafting or dining area.
Highlighted Features:
Heat-resistant, nonstick, and nonskid
Ideal for use as a placemat or table protector
Doesn't slip off the work surface
Made of food-grade silicone
3 available colors: black, gray, and beige
Durable and reusable in various projects