Crafting is fun but not without a perfect scissor that'll be precise, sharp, and durable. It should have a convenient size with a comfortable grip so you don't get fatigued even after a long time of use and abuse. Added to that, a craft scissor should be able to cut various craft materials including paper, fabric, protective film, yarn, etc.
However, considering that these tools are available in a variety of different shapes and sizes, it can be a little bit tricky for DIY'ers to find the best craft scissors set for multifarious projects.
And that's the reason we've stepped in with this comprehensive buying guide article to make things a little easier for anyone to choose the perfect scissor for all-season crafting.
7 Best Paper Craft Scissors Reviews
We've picked some of the high-quality and well-made craft scissors that are easy to use can be cleaned without much effort, are durable and long-lasting, convenient grip for comfortable long-time use, and so forth.
However, you're always advised to do your own fact-checking and take our guidelines as the base or raw information.
1. Amazon Basics Multipurpose Craft Scissors Set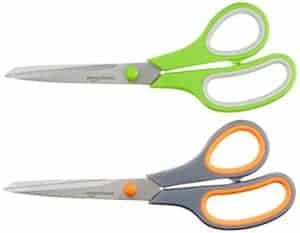 If you need a reliable pair of craft scissors, this AmazonBasics multipurpose office toolset might be a great option! These pieces are made of stainless steel and are designed for both right- and left-handed users. They're also multipurpose, meaning they can be used for a variety of tasks, such as cutting paper, fabric, film paper, and more.
Additionally, the scissors come with a protective sheath that helps to keep the blades sharp and free of debris. If you're not satisfied at any stage, they come with a 90-day money-back guarantee.
That's why we consider this set as a quality pair of scissors that can handle a variety of tasks. Not to forget that these tools are very simple, yet handy to have around the craft workshop. The high-quality and durable SS material will hold sharpness for a long time.
So you can be precise whenever you need. Finally, the grip is very convenient and comfortable making them easy to operate. Overall, it's perfect for any cutting needs you may have.
Highlighted Features:
Great value for the money
Well-constructed and cut well
Can be used for a variety of tasks
Lightweight and easy to use
Come in a two-pack
---
2. iBayam 8″ Right/Left Handed Craft Scissors Set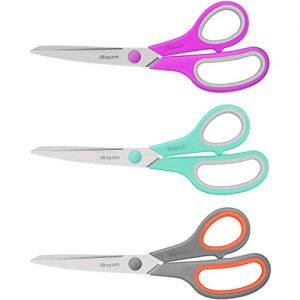 This multipurpose scissor set is also made of high-quality materials. And it's essential for a variety of tasks. Consequently, we consider it can be a great addition to any household, office, school supply closet, or craft workshop.
They are made with a comfortable grip and are sharp enough to cut through fabric, paper, and other craft materials with ease. The scissors are also designed to be used with either the right or left hand, making them perfect for individuals of all ages and abilities.
So they are suitable for various tasks like sewing, crafting, or quilting. You'd also love to know that they're available in three different colors: mint, grey, and purple. This helps to easily match the decoration of your taste.
Highlighted Features:
Multipurpose use
Precise and sharp
Can cut through a variety of materials
Come in a variety of colors
Comfortable to grip
Easy to use
---
3. Taotree Bulk Pack of 5 Stainless Steel Sharp Scissors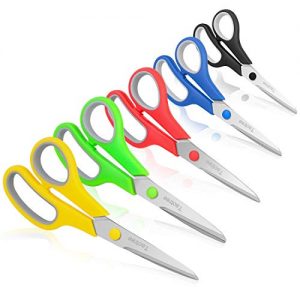 A precisely made scissor is a must-have for any crafters. And that's what you get in this package. This is a bulk pack of 5 high-quality stainless steel sharp scissors. Whether you're looking for something standard or a little more specialized, there's always a perfect option!
Not to forget they are 8" long, making them perfect for general use around the home or office. They're also great for high/middle school classrooms, where students can use them for a variety of tasks, from cutting paper to trimming hair.
So apart from crafting, these tools can be used for various other projects.
Even better, made with stainless steel blades, these tools are sharp and designed to last for a long time. They're also comfortable to hold, with a soft, rubberized grip that makes them easy to control. And, for a pretty reasonable price, this 5-pack of Taotree scissors is an affordable way to stock up on quality products.
Highlighted Features:
multipurpose tools
Made of stainless steel
Sharp and can easily cut through materials
Easy to use and handle
Great for any craft works
---
4. LIVINGO Premium Scissors Heavy Duty Multi-Purpose Titanium Coating Forged Stainless Steel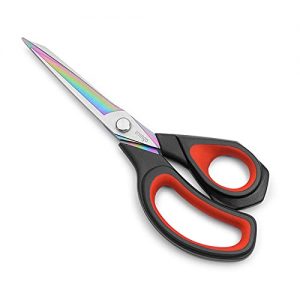 LIVINGO has made an incredibly nice piece of scissors. This premium tool is heavy-duty and long-lasting. You can cut through a variety of materials so that makes it an essential tool for any sewer, crafter, or dressmaker.
To be precise, it's made of forged stainless steel and has a titanium coating. This makes it more durable and helps to protect against wear and tear. Also, the comfortable grip handle makes it easy to hold for a long time. So you can work comfortably without getting hurt in the fingers.
Moreover, LIVINGO premium tailor scissor is perfect for any sewing, fabric, or craft project. You'll be able to easily cut through cloth, leather, and other materials. That's why we call it a versatile tool for any DIY project.
It's great for everyday use around the house. Overall, if you are looking for the best craft scissor that'll be both durable and comfortable, then be sure to check this out!
Highlighted Features:
Very sturdy and well-made
Comfortable grip and are easy to use
Titanium coating ensures durability
Can be used for crafting, sewing
Resistant to rust
---
5. Asdirne Set of 4 Premium Stainless Steel Craft Scissors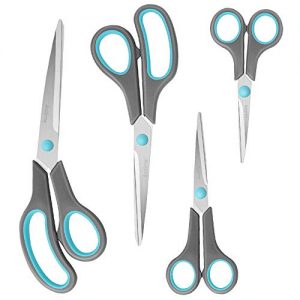 Asdirne Scissors are made of premium stainless steel material. This ensures the blades are well-crafted to hold a sharp edge for a very long time. You can feel the preciseness when holding it in your hands. Besides, the semi-soft rubber grip is comfortable to hold so you get a good grip.
In addition, these essential crafting tools are lightweight so you can work around for extended hours around the crafting table. Consequently, it's easy to use and you can easily cut through protective films, papers, foam, cutting paper, cloth, and other materials in school, office, and home.
Not to forget that this scissor is available in different sizes including 5.4, 6.4, 8.5, and 9.6 inches. The different sizes can meet different needs. That said, this pack has one of the best small craft scissors. Their blue and gray design is so stylish that's fun to work with!
Apart from using it for personal purposes, it can be a great gift for your friends and family.
Highlighted Features:
Well-crafted sharp SS blade
Comfortable soft rubber grip
Cut through paper and other materials easily
Suitable for both school and office use
The colorful design is attractive
---
6. Mr. Pen Decorative Edge Scissors for Crafting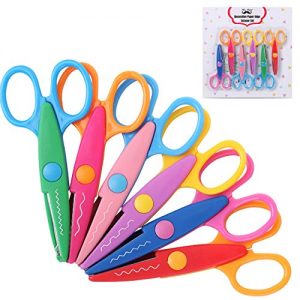 Are you looking for scissors that can help you to add some extra flair to your crafting projects? If so, then you may want to consider investing in this set of Mr. Pen-Craft decorative edge scissors.
These tools feature a unique zigzag edge that can help you easily cut through a variety of different materials. The decorative scissors are great for adding a touch of flair to the projects. You'll find them great for scrapbooking and other crafting projects.
The zigzag edge is also great for cutting patterns and designs, making them a must-have for any crafter's toolkit. That said, this set of durable and high-quality products can be a great gift for your mates, grandchild, mom, college friends, or crafty folks!
Finally, for a more professional and fun way to add creativity to your crafts, it is well worth the money you invest!
Highlighted Features:
Great for scrapbooking and crafting
Come in a pack of six
Perfect for cutting patterns and designs
Adds a touch of flair to your projects
Durable and precise
---
7. Beaditive High Precision Detail Scissors Fine Tips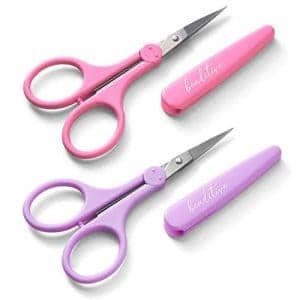 Are you looking for a precision detail scissors set that will make all your crafting and sewing projects easier? Then you need this set in your toolbox!
Made with sharp and fine tips, you'll have greater control over your cuts. Consequently, they're sharp and precise, making them perfect for detailed cutting tasks such as scrapbooking, paper crafting, and sewing.
And because they're made with stainless steel, they're durable and long-lasting.
Plus, the included protective cover ensures that the tools are always in good condition. So if you're looking for a high-quality, precision detail scissors set, this could be another perfect choice!
Not to forget that it's affordable and great for everyday use. So overall, this toolset would be a valuable addition to any crafting toolkit.
Highlighted Features:
Sharp and precise
Perfect for detailed cutting tasks
Protective covers ensure safety
Greater control over the cuts
Made of stainless steel material
Durable and long-lasting
---
Buying Guide for Craft Scissors Set
Craft scissors are a necessary tool for any crafter. Interestingly, they come in a variety of shapes and sizes to suit different needs.
Here are a few things you should keep in mind before purchasing one:
Purpose
First of all, think about what you will be using it for. Are you looking for a general-purpose or something specific like fabric cutting or craftworks like paper cutting? Make sure to select the right type of scissors for the task at hand, as they will be more effective and comfortable to use that way.
Blade Material
Craft scissors usually have stainless steel blades, which can be sharpened to a fine edge. Some also have titanium-coated blades, which offer extra durability and help to keep the blades sharp for longer.
Handle Material
The handles can be made from a variety of materials, including plastic, metal, or wood. The type of material you choose will depend on your personal preferences and the type of crafting you do.
However, it's good to ensure that it has a comfortable grip with a soft rubber overlay on the handle. This will ensure you can work for a long time without getting fatigued or injuring your fingers.
Ease of Use
Some scissors are designed to be more comfortable and easier to use than others. Hence, you need to consider the grip share, length, and weight of the scissor.
Also, make sure the blade is sharp enough and crafted from the toughest material. This way the edge will hold its sharpness giving you better consistent control over the cuts.
Frequently Asked Question
1. Are Craft Scissors Sharp?
There is no easy answer to this question since it depends on the type of scissors being used. Crafting scissors generally have a sharper edge than others, but they may not be as sharp as a dedicated blade.
2. What Are The Sharpest Scissors?
Some people believe that the sharper it is, the easier they are to cut with. As such, many believe that Japanese-made scissors are the sharpest.
3. What Are The Strongest Scissors?
To define a particular scissor to be the strongest we need to consider the materials from which it is made. However, products made from high-quality stainless steel are often considered to be the strongest.
4. How Do You Keep Fabric Scissors Sharp?
There are a few ways you can do that. One is to use a sharpening stone to sharpen the blades regularly. Another is to use a honing or polishing stick to help keep the blades aligned and sharp.
5. Are Fabric Scissors Sharper Than Normal Scissors?
It depends on what you mean by "normal." If you're talking about fabric scissors, then they're likely sharper because they're designed for cutting fabric. However, if you're referring to standard counterparts used in the kitchen, then the answer is NO, they're not necessarily sharper.
Conclusion
So that's the end of our explanation of the top 7 best craft scissors. If you're a professional and have worked with these tools before, then we hope you've already chosen something by reading the pros and cons of your preferred product.
However, if you're a DIY enthusiast, we hope that you're now more conformable and got inspired! We also advise that you try out reading some other customers' opinions and get to know more about a particular item that you like most.
Finally, we hope that we're able to list a variety of wonderful options for every mind and budget. And now that you have a great scissor that's sharp and able to cut through a variety of materials, go ahead and have some fun!