Resin art has taken the world by storm in recent years, with its unique ability to capture stunning designs and patterns in a glossy, glass-like finish. But for beginners, getting started with resin art can be a daunting task.
With so many different types of epoxy kits on the market, it can be difficult to know where to start.
Fear not, because we've got you covered!
In this article, we'll run through in our opinion three of the best epoxy kits for beginners looking to become resin masters.
Whether you're a seasoned artist or a complete novice, these kits will help you create beautiful and unique resin art pieces that you can be proud of.
So let's dive in and discover what these three kits have to offer!
Our Top 3 Epoxy Resin Kits For Beginners
---
LET'S RESIN Epoxy Resin Starter Kit for Beginners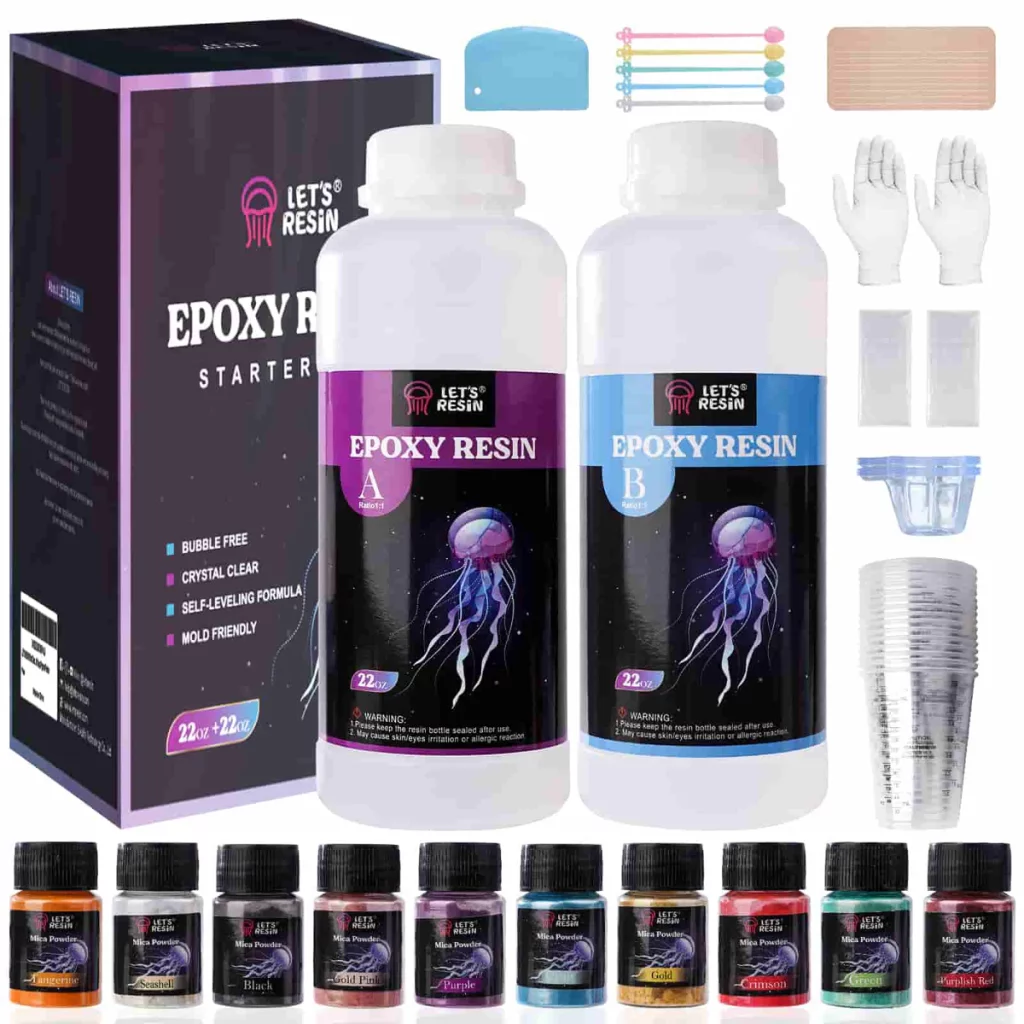 The LET'S RESIN Epoxy Resin Starter Kit for Beginners is a comprehensive starter kit that provides everything needed for crafting, coating, and casting projects. This kit includes two 22 oz bottles of clear epoxy resin, 10 colors of pigment powder, measuring cups, and stir sticks, among other tools. It is an excellent choice for hobbyists and beginners due to its ease of use and high-quality results.
This is a bare bones kit meaning that it has everything you need to without add the costs of all of the bells and whistles that you may not want.
Perfect for an artist that has a vision in mind of what they want to make.
This is a premium epoxy resin kit is due to the premium premium clear resin. It is self-leveling, crystal clear, and produces a high gloss finish that is hard as a rock. the scratch and yellowing formula ensures a high quality end product every time.
This is particularly important for jewelry making, casting and table coating, where durability is crucial.
Another significant advantage of this epoxy resin is its ease of mixing and application. With a 1:1 mixing ratio, the casting resin is simple to use and can be applied to a variety of surfaces without any issues. The resin is also one of the most bubble free resins that we have ever used without using a torch or compression chamber to remove excess bubbles, and because of this it's extremely easy for beginners to get good results while they are learning the ropes of resin work.
This resin kit has been designed for a wide variety of applications making it an excellent choice for those who love to explore different types of crafts and projects.
Because of the wide range of applications in mind for this resin this kit does not come with specific molds. which can be a benefit because you get to pick the mold for the project that you want to do.
Never fear though, you can pick from a number of high quality molds for a variety of different projects here.
Overall, we highly recommended for anyone looking to start or expand their epoxy resin crafting and either wand to pick their own molds or have them all ready.
The benefits of This Kit:
Resists yellowing for a significant amount of time compared to other resins.
Significantly harder surface that will resist scratching.
virtually bubble free.
Variety of color pigments for experimentation.
Kit contains mixing cups and sticks for a complete working package.
---
UPSTART EPOXY Premier Bundle Beginner Kit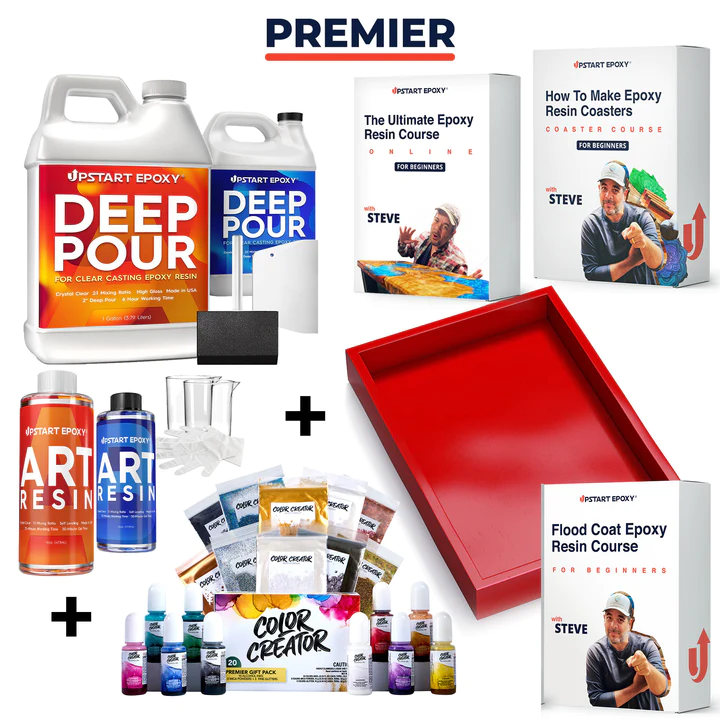 The Upstart Epoxy Premier Bundle is truly a game-changer for anyone who knows that they want to start working with epoxy in the medium scale. granted it is a larger kit the inclusion of the silicone mold the kit is aimed cutting and charcuterie board makers.
From the high-quality silicone mold to the deep pour epoxy kit and the art resin epoxy kit, this bundle has everything you need to unleash your creativity and bring your ideas to life.
The main reason that I recommend this kit is the in depth video tutorials
The Ultimate Epoxy Resin Course
How To Make Epoxy Resin Coasters
Flood Coat Epoxy Resin Course
The information is all there, you don't have to go searching for it. This is gold for for the up and commers in the resin art world.
these 3 courses give you all the information you need to get up and running. very good for the visual learners out there.
The 18″ x 12″ x 2″ silicone mold is a fantastic addition to any resin artist's toolkit. With its perfect size and deep design, it allows for a wide range of possibilities for creations, whether you are making a cheeseboard or a small tabletop. It is flexible, easy to demold, and designed to withstand high temperatures, ensuring that you get the best results possible with each use.
The deep pour epoxy kit and the art resin epoxy kit are both beginner and expert-friendly, making it easy to achieve the desired results. The deep pour epoxy kit allows for flexible working time, high-gloss finish, and water-resistant coating.
On the other hand, the art resin epoxy kit comes with a shorter working time and 20 color creator premier mica powder gift pack for a translucent alcohol ink effect.
Both are food safe and compliant with FDA standards, making them safe to use for any project.
In my opinion, the best thing about this kit for beginners is the instructional videos courses that come in the package. the information is all there you don't have to g searching for it
If you're looking to start your resin art journey with a bang, this bundle is the perfect choice.
Use the coupon code Resin Affairs to get a 5 % discount on anything you buy over at Upstart Resin
The Benefits of This Kit
high quality resin
resistant to yellowing
very little bubbling when mixing
food safe
2 formulas for long and short working time
silicone mold as part of the kit
Variety of color pigments
Beginner tutorials
---
INTO RESIN Epoxy Resin Kit for Beginners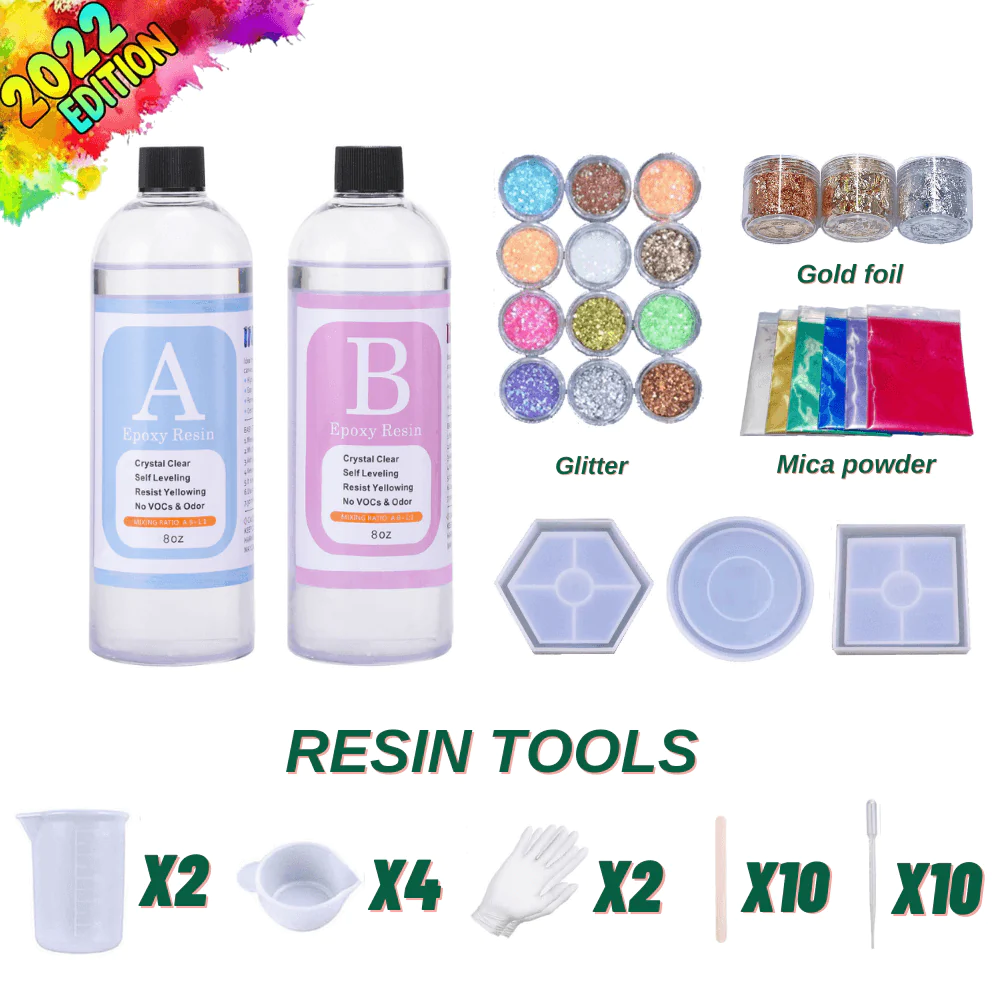 The INTO RESIN coaster set for beginners is an excellent product for anyone interested in creating unique and personalized coasters.
The set includes everything a beginner would need to start their resin crafting journey, including 16oz of epoxy resin, 12 colors of glitter, 6 colors of mica powder, 3 colors of gold flakes, and more. The tools included in the kit make it easy to finish a coaster project.
One of the best things about this coaster set is how easy it is to demold the finished coasters from the molds. The molds are thickened, making them less likely to be damaged during the demolding process. This feature is particularly important for beginners who may not have much experience with resin crafting.
The INTO RESIN coaster set is an excellent gift for family and friends who appreciate unique and personalized items.
Not only are the products from into resin far better than most other products on the market, their after sales customer service is top notch, if any problems arise with their purchase they are there to help you out.
Overall, this product is an excellent choice for anyone interested in starting their resin crafting journey.
Use the coupon code Resin Affairs for a discount on anything you buy over at Into Resin
The Benefits of This Kit
Makes a great gift
Resists yellowing
High quality silicone molds
Cures hard and extremely scratch resistant
Variety of glitters, foils and mica powders
Included mixing tools
Excellent customer service
---
Beginners Epoxy Resin Starter Kit Buying Guide
When you're initially getting involved in the world of resin crafting, there'll be a lot of mind-boggling questions in your mind. Besides, the overwhelming information on the internet can seriously confuse you upon deciding on a certain product. If you don't know what factors to look for, finding the right resin may not be a straightforward process.
That's why I've laid this segment to make things pretty much easier for everyone! These factors will ensure you get the perfect product for your project no matter what expertise level you're in. So without further ado, let's get started: –
1. Curing time
This refers to the duration that the epoxy takes to set after applications. One thing that makes this factor so important is that it determines the time you'll complete your protection. Secondly, it determines how much time you have to adjust the pieces. Otherwise known as the 'work time'.
Since crafting usually involves working with small components, look for a formulation that takes at least 30 minutes to set. This will give you enough time to remove air bubbles and smooth out the glue before it hardens. You can also adjust any decoration should the need arise.
2. Application
Epoxy resins tend to harden quickly. After mixing the resin with the hardener, you should pour the mixture onto the mold right away. Then spread the coating before the setting process begins.
If you're using epoxy for the first time, look for a product with a longer setting time. However, the work time should be less than 60 minutes. This will give you enough time to mix and apply the finish without rushing. Moreover, you'll have adequate time to get rid of any blushing or bubbles.
Also, make sure you read the application specifications in the instructions manual before you apply the product. Generally, look for an adhesive with a fairly straightforward process, especially if you're a beginner.
3. UV Protection
It's also good to buy an epoxy that can withstand Ultra-Violet light from the sun. If the resin cannot withstand UV rays, the surfaces will eventually fade off or turn yellow over time. However, if it's UV-resistant it will be able to protect the craft pieces like coasters from UV damage.
4. Finish
Another important thing you should consider when buying epoxy is the finish. Most craftsmen and artists would prefer resins with a crystal-clear finish. This type of finish is so beautiful and appealing to the eye.
However, if you're planning to amend the resin with ink or dye, you can overlook this factor.
5. Water/Scratch Resistance
Choose an epoxy with a formula that can tolerate moisture and water. Such a resin will ensure your jewelry is protected when it comes into contact with water. Besides, this will prevent them from accumulating unsightly water stains.
Apart from water and UV radiation, epoxy can be susceptible to various forms of impacts and scratches. So, choose a product that forms a layer that is hard and strong enough to withstand such impacts.
6. Safety
Some epoxy resins contain harmful chemicals. Such ingredients can pose health hazards to the users' nervous and respiratory systems, liver, and kidneys. To avoid that, I recommend that you look for products that contain non-toxic formulas.
Also, even if the formulas are non-toxic, apply them in well-ventilated areas. It is also important to wear protective items like gloves, glasses, and safety masks when applying these glues.
7. Self-Levelling Property
Using a self-leveling product saves you time and helps you accomplish a smooth finish. This property comes in handy when you're making pieces that are too small to use a roller or brush. This will also make your project easier and prevent surface imperfections like the formation of streaks.
Conclusion
With the right beginner kit, you can easily get into the world of epoxy. You just have to make sure you gather all the essential craft supplies that are needed for working and your personal safety.
Remember that epoxies are very versatile and you can use them to make other items as well. Even so, you need to understand that not all products are safe to use. Instead, the best art resin for beginners should be the one that gives you excellent results.
Thankfully, I've highlighted some of the best resins that are suitable for starter crafters and are worth investing in! And I highly believe that you loved it!
FAQs
1. What is the easiest epoxy resin to use for beginners?
There are many different types of epoxy resin, and each has its own set of pros and cons. For beginners, I'd recommend using a water-based epoxy resin, as it is the easiest to work with and has the least amount of fumes.
2. What do you need for resin art as a beginner?
As a beginner, you will need a few supplies before you can start creating your own resin art. First, you will need some resin. Resin comes in two parts, the resin itself and the hardener. You will need to mix these together in the correct ratio in order to create a usable resin mixture. Resin is available in a variety of different colors, so you can choose the one that you like best.
Next, you will need something to mix the resin in. A disposable cup or container is best, as resin can be difficult to clean off surfaces. You will also need something to stir the resin with, like a popsicle stick or a chopstick.
Finally, you will need something to pour the resin into. This can be anything from a mold to a piece of wood. If you are using a mold, make sure that it is food-safe, as the resin is not something that you want to eat. With these supplies, you will be ready to start creating your own resin art.
3. How do beginners use resin?
There are a few different ways that beginners can use resin. One common way is to mix it with paint to create a custom color. Another way is to use it as a sealant for projects like jewelry or coasters.
4. Can I mix glitter in resin?
Yes, you can mix glitter in resin.  And to do so, you will need to purchase glitter that is made specifically for use with resin. You will also need to purchase resin that is made specifically for use with glitter.
The ratio of glitter to resin will vary depending on the desired effect. A good starting point is 1/4 cup of glitter for every 1 ounce of resin.
Once you have your glitter and resin, mix them together thoroughly. The best way to do this is to pour the glitter into the resin and then stir until the two are fully combined.
5. How do you color resin?
Resin is usually colored with pigments or dyes. You can add these directly to the resin before you mix it, or you can add them to the hardener before you mix it with the resin. You can also add them to the mixed resin after it has been poured into the mold.