How To Identify Surfaces That Are Difficult for Epoxy to Bond With
Epoxy is an incredibly versatile adhesive bonding agent, but it doesn't always work on every surface. If you want to use epoxy resin in your epoxy project to attach items together, it's important to know which surfaces it won't stick to in order to avoid disasters and costly repairs.
For instance, it can stick to all types of wood, glass, aluminum, and many other surfaces by creating a chemical bond.
These adhesive properties make it a great product for resin arts and crafts as well as an excellent wood glue for woodworkers.
In some instances, however, you may not want the epoxy to adhere to a certain surface. Thankfully, there are products that epoxy resin doesn't adhere to.
In this article, we'll learn how to identify surfaces that are difficult for epoxy resin to create a chemical bond or mechanicle bond with.
We'll also talk about their benefits and drawbacks in various resin art projects.
Let's get into it!
Identifying Surfaces That Epoxy Won't Adhere To.
Some of the most common surfaces that epoxy won't bond to include plastic and rubber.
It's important to note that different types of plastics require specific adhesives.
Additionally, oil-coated or greasy surfaces are difficult for the epoxy resin to adhere to as oils can act as a lubricant and prevent the resin from forming a proper bond.
Finally, glass, certain metals, and non-porous surfaces such as Teflon are also particularly tricky for the epoxy resin to stick to.
Surface Preparation and Cleanliness for Optimal Epoxy Bonding.
Surface preperation is essential to ensure the best possible adhesion, it's important that the bonding surface you wish to bond together receive proper surface preparation to create a clean surface.
This includes cleaning the surfaces with a degreaser or solvent and allowing them to dry completely before applying epoxy.
This surface preparation ensures that all dirt, dust, oils, or other contaminants don't interfere with the adhesive bond and contaminating the surface. Similarly, roughing up the surface can help to create a better grip for the resin.
Proper Curing Processes For Maximum Strength Bonding
To ensure a high-quality bond is achieved, it's important to take the proper steps for curing.
For epoxy, this involves post-curing – a process of heating the substrate in an oven and maintaining that temperature for several hours.
This helps to drive off any residual moisture or solvents, ensuring maximum strength bonding with your chosen substrate.
Additionally, post-curing can also reduce shrinkage due to the high reactivity of the resins as they start the curing process.
What Materials are Good for Making Molds
Polyethylene Plastic
Polyethylene is a high-quality, sturdy, and durable material that contains polyethylene. It's the first material on my list that epoxy doesn't adhere to.
More importantly, it's one of the most commonly used products to make large plastic containers (molds). They make it easy to remove your resin items from the molds. Also, it's the preferred option by many DIYers and professionals.
You can use it when making cutting boards as well as resin tables. The other benefit of this product is that it's quite affordable. So, if you don't want to clean it up after finishing your project, you can simply throw it away.
However, note that polyethylene is the most expensive material on my list. Not to forget that you'll need some experience to determine the ideal size and density for your project.
Benefits
High-quality, strong and reusable
Ideal for making river table molds
Suitable for professionals
Drawbacks
More pricy than other materials
Requires a little experience to choose the perfect size and density
Silicone/ Rubber/ Vinyl
Vinyl, silicone, and rubber are other popular durable products that epoxy doesn't bond to. Among these, silicone is the most popular as well as the most effective product. And many desirable features support its use in epoxy casting.
For instance, it's heat-resistant and affordable. Best of all, you can use it to make any form/ shape you want.
This makes it the best option for making molds, especially for smaller items. This includes items like coasters, jewelry, and other unique-shaped pieces.
There are some drawbacks to using these materials though! For instance, silicone molds are not suitable for casting large items. This is because they don't have the ideal glossiness to promote the easy removal of such items.
Also these materials don't have any structural strength to support material when used as larger molds and they will have a tendency to deform or collapse on itself without additional support.
Other than that, these molds are very efficient for special items and smaller pours.
Benefits
A great option for creating uniquely shaped items
Affordable and heat-resistant
Efficient for smaller items
Drawbacks
Not suitable for making large molds
Melamine Board
Melamine is a cost effective, strong a widely avaliable material that can be bought from any hardware store.
It is a type of engineered sheet material consusting of a sheet of compressed wood particles wraped in a plastic creating smooth non pourus surfaces on both sides.
The thickness of the material is exelent for larde table top epoxy molds that are very heavy or have alot of depth because it wont bend or warp very easily as tempratures rise.
Sheathing Tape
Sheathing tape has so many uses. For instance, it's used for sealing joints and permanent sealing during foam insulation. Also, it's ideal for repairing rips and other vapor barriers. Not to forget you can use it in construction membranes and films.
Sheathing tape is very different to standard painters tape as the surface of the painters tape is pourus and will allow resin to stick to it whereas shething tape has a high gloss surface that will prevent bonding.
Putting that aside, this material is also used in epoxy crafts. Thanks to its ability to resist bonding with resin. For that reason, it's used to cover work surfaces in epoxy projects for easy clean-up.
It's simple to remove from the surface after resin cures and leaves a shiny finish.
Many crafters also love sheathing tape for its cost-effectiveness. Besides, it allows them to create various angles and shapes. On top of that, it allows you to work on various surfaces, regardless of their sizes.
On the downside, sheathing tape may leave many seams on your resin pieces once the epoxy fully cured. To remove those seams, you'll need to buff and sand them later. In other words, you'll need to lightly sand your project moving your way up through each grit sandpaper to remove the seam lines.
Benefits
Very affordable
Allows surfaces to retain a shiny appearance
Ideal for creating different angles and shapes
You can use it multiple times
Drawbacks
The tape may transfer an imprint of the tape seam into your project.
Wax Paper
Parchment/ wax paper is cost effective, yet simple to use. This makes it one of the most affordable options for use in DIY projects. For instance, it's ideal for making simple molds for small tables. You can even use it to cover natural edge or live edge tables.
However, you should note that wax/ parchment paper molds have some limitations. More notably, once you de-mold your resin items, they may appear cloudy. This is because wax from your paper may get into the resin.
Also, the wax paper doesn't remain intact while epoxy cures. This movement can cause your pieces to have issues as well.
Benefits
Easy to use
Affordable
Ideal for making small table molds
Drawbacks
Wax paper doesn't stay in place during resin curing
Resin may appear cloudy/ foggy
Hot Glue
Hot glue is mostly used when making river tables. That's because it prevents the overflow of resin near the surface you're pouring. That's not the only way you can this product though!
For instance, you can also use it to make molds and seal any cracks on wood surfaces.
Talking of molds, hot glue is very flexible, allowing you to mold any surface perfectly. Better still, it's a type of thermoplastic. So, like other materials on my list, resin will not stick to it.
One issue with this product is that you can't use it on its own. Instead, you need to combine it with other material. Also, hot glue is difficult to remove from rough wood surfaces. It may even leave marks on such surfaces.
Benefits
Prevents overflow of epoxy when making river table tops
Seals cracks on wooden surfaces
Ideal creating dams on flat bonding surfaces
Drawbacks
Doesn't produce good results when used on its own
Hard to remove from rough wood
Why Oil, Grease, and Dust Hinder the Effects of Some Adhesives.
Oil, grease, and dust can prevent resin from adhering properly due to its natural properties.
For example, the oil and grease act as a barrier between the substrate and the adhesive and do not allow the two to bond together correctly.
Similarly, dust particles can embed themselves within the adhesive film – creating microscopic areas of high stress which hinder the overall strength of the adhesive joint.
To ensure that the epoxy sticks correctly, it's important for molds to have clean surfaces. It is important identify and remove dus and any potential contaminants prior to application.
Proper surface preparation including removing any dust will ensure the bonding surfaces are cleas and help the resin stick
Uses of These Materials in Epoxy Crafts
Materials that don't stick to epoxy can have many uses in resin crafts. For instance, you can use them to cover your work surfaces and tabletops. In most cases, DIYers use plastic sheeting for that purpose.
That's because it's tear-resistant and affordable. You can then tape it to the work surface and peel it off when the mixture cures. Alternatively, you can cover the surface with a plastic storage bag or garbage bag.
Some of these items are also used to make resin molds, both for large and small items. Even better, it allows you to mold various shapes.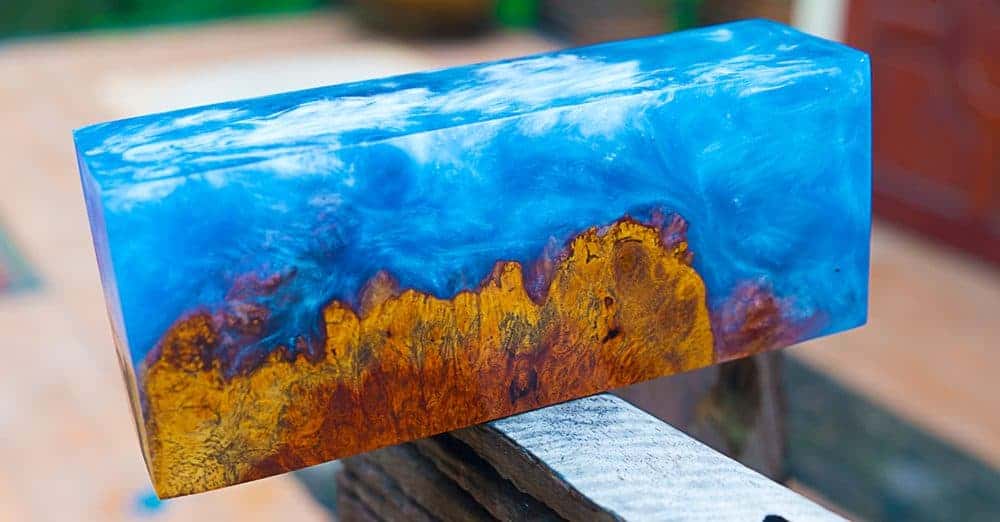 Conclusion
All materials I've included on my list have one thing in common; not adhering to epoxy. However, you need to note that they're different and ideal for different applications. So, before you use a certain option for your project, check if it's suited for that application first.
Also, note that these are not all surfaces that epoxy doesn't adhere. I may have left out other materials like Mylar, Teflon, ceramic tiles or ceramic surfaces and nylon as they are not generally available for the average hobbyist.
FAQs
Does epoxy adhere to a cured resin coat?
Yes! Epoxy can adhere to a coat of resin that has already been cured. However, for better results make sure you prepare the surface properly before you apply another coat. This will allow the fresh coat and cured surface to form an adhesive bond.
Will epoxy stick to aluminum foil?
Epoxy will adhere to most metal surfaces therefore as aluminum is metal, resin sticks quite well. Also, it adheres to glass and all wood.
How do I prevent the epoxy from sticking to my molds?
Mixing resin and hardener generates heat. If this heat is too much, it can cause your molds to melt. This eventually causes the epoxy to stick to the molds. To prevent this, surface preparation is key. Cover the mold's surface with wax or a spray release agent before pouring the mixture. Paste wax and mold release spray makes it easy to remove your pieces once epoxy cures.